In 1999, Nicolai started working as a management consultant – first for an international management consultancy, then for his own business the Ignite Group since 2003.
Nicolai works cross-functional, cross-discipline, industry-independent, with an enquiry-focused consulting style. He particularly enjoys working in the 'overlapping areas' between business and IT, such as
enterprise architecture and business <-> IT process architecture (including COBIT and ITIL framework standards)
translating business requirements into IT functionalities for SDLC developments
defining and scoping business projects for the IT delivery for better accuracy in project delivery
Nicolai offers the following management consulting services: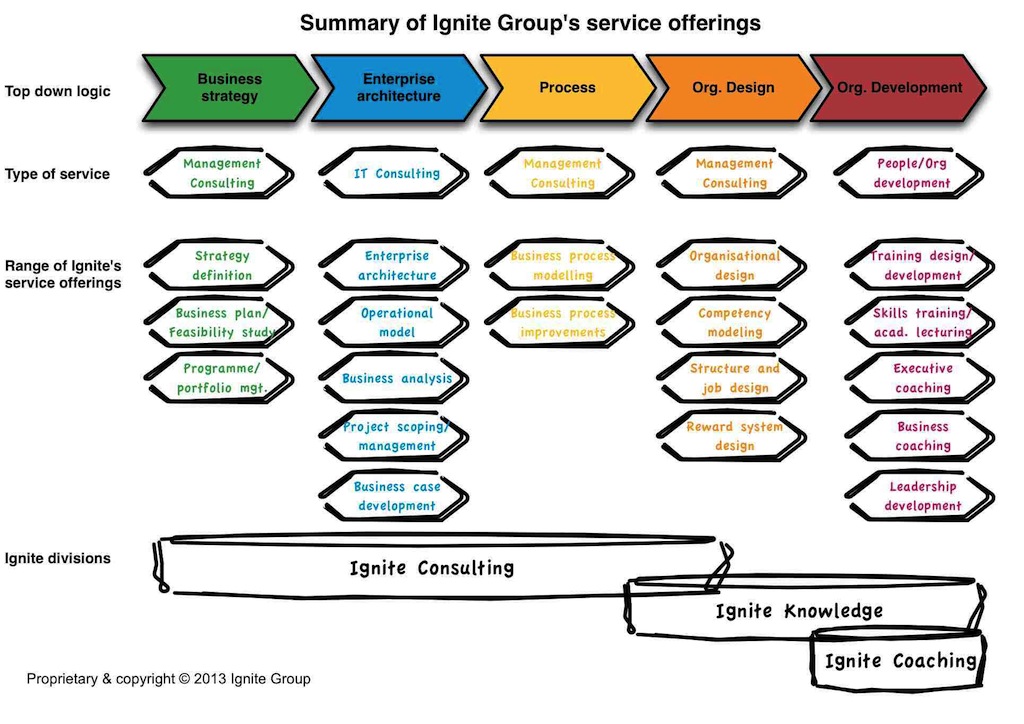 Strategy definition and design of business strategies for small-mid sized companies

formulating and defining business strategies that are supported by a strong business model,
together with a fit-for-purpose operating model with a strong foundation through the right composition of the right enterprise architecture mix.
Feasibility studies – market and PEST analysis for product development

through assessments of the markets, competitor, trends, PEST analysis (political, economical, social, technological conditions), business models, financial revenue and costs models and business plans,
Nicolai helps to determine if and how the idea/product/investment can be turn into a success.
Program / portfolio management – for strategic programs

through aligning and defining a strategic program as part of the strategy definition,
Nicolai ensures that all projects and initiatives pull into the right direction with the right objectives.
Enterprise architecture and operating model

Nicolai brings together the business with the technology
he translates the conceptual business strategy into an enterprise architecture design that drives and define the operating model with all the required enterprise architecture pillars to answer the following client questions:

For my defined company strategy, what set of resources and capabilities does my business require to deliver optimally for its business model?
What people resourcing and competencies do I require to operate my business?
What process do I need to operate my business and deliver to my customers?
What technology and systems are required to support the people and the process?
What infrastructure needs to be in place?
Small-mid size business transformation projects

Nicolai works together with other experts in his network to deliver smaller business transformation projects for small medium sized companies (currently in South Africa, Germany, Switzerland and Vietnam)
depending on the business and project needs, Nicolai manages the project manager role or a support advisory role to the existing company project manager.
Process and organisational design

process analysis of the As-Is and modelling a To-Be process that delivers and takes the people into account.
business process modelling together with business process improvements.
organisational design together with job design and reward system design and competency modelling.
Special consulting in the following functional areas:

Supply chain
Project office management
In-house consulting
Training management
Product strategy / product pricing / product costing